How to neutralize unpleasant smells in the kitchen when washing and cleaning no longer helps
How do I get rid of a bad smells in my kitchen?
What to do when we already care about cleanliness and still smell bad smells in my kitchen?
The kitchen is a special place at home. On the one hand we have quite a lot of odorants and on the other hand we prepare meals there and eat them. However, it often happens that cleanliness and hygiene alone is not enough.
Odorants that occur in the kitchen
The kitchen is a specific place, where we have many possible places where unpleasant odors arise:
Cooking and cooking fumes
Fat burnt
Waste garbage bin
Sink's waste pipe
Fridge
Odors of pet food residues
Larder
Due to its important role in the preparation and consumption of meals, the kitchen is a special place. Especially here you should avoid all kinds of artificial air fresheners or chemical, cheap neutralizers or odor absorbers.
Odor neutralizers for the kitchen
Using all kinds of odor neutralizers in the kitchen is like taking a toothache tablet - it temporarily eliminates the effects, but does not remove the problem.
Yes, in special cases it is necessary to use an odor neutralizer. After a thorough reading of the description on such a product (CLP description - allergens), it is best to use a spray neutralizer to temporarily improve the atmosphere. However, I would recommend avoiding permanent neutralizers such as gels, electric neutralizers (plug-in) or automatic dosing systems.
The kitchen is a place where it is especially important to remember that our olfactory system was created in an evolutionary way to save our lives and prevent food poisoning. Cheating this system by introducing a constant dose of the neutralizer is therefore not good for our health!
Kitchen - refresh and keep clean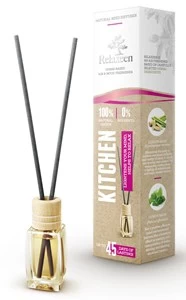 We can create a beautiful smell in the kitchen in a natural and healthy way. The best and most effective solution is drying fruits in the oven. Low temperature - up to 60 oC during drying will make the fruits (especially citrus fruits) give us the most wonderful, natural aroma. Unfortunately, this method is quite time-consuming and not always possible for everyday use.
So it is best to use a good quality natural air freshener, with constant evaporation, especially reed diffuser / sola flower type or a good quality gel. Always remember to check the description on the package especially the description of allergens.
I do not recommend hot evaporation solutions, i.e. electrical systems (plug-in type) or automatic pressurized sprays. The former because of the way of hot evaporation, which destroys natural essential oils, and the latter because of the possibility of getting a significant amount of air freshener on food products by dosing product particles constantly in the same place (on food?).
Let us remember - the kitchen is the place on which our whole day depends. A good mood in the morning is worth a bit of effort!
Attention to health - Kitchen place especially important
When using air fresheners or odor neutralizers, always check the description on these products carefully! Particularly important is the description of allergens contained in such products. There are no natural air fresheners that do not contain allergens - this is simply not possible. If there is no information about allergens on the air freshener - throw it away immediately. Lack of descriptions usually indicates that we are dealing with a synthetic product or even worse, that the manufacturer is hiding something from us. This topic is described in more detail in Herbal Garden at Home - Always ask for an MSDS card.
Author: Waldemar Stasiak - ELiX Founder
Copyright © by ELiX Ltd.